Reasons to Consider... Passionfruit
Published on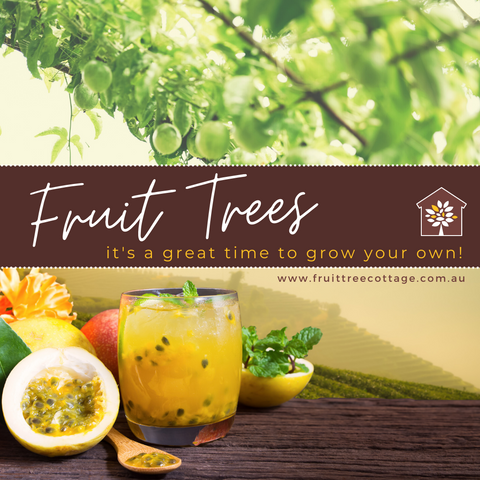 Passionfruit... It's a great time to grow your own!
Passionfruit. This tropical fruit vine makes an excellent addition to your backyard or garden. Easy to grow, robust, stunning flowers, and very productive yielding delicious, nutrient-dense fruit! Fantastic to provide an attractive green screen to cover fences, walls, arbours or similar spaces.
Passionfruit are a tropical and sub-tropical fruit, and although this vine can be grown in many parts of Australia, the major growing regions are in the tropical coast line of Sunny Queensland.
Passionfruit... more than just a tasty treat. Escape into your own paradise by creating a natural fence that will also provide you with a delicious sweet treat for the family. In bloom, enjoy this vibrant green vine and its strikingly gorgeous flower - perfect for creating a natural growing green screen along fences, arches and arbors.
Fruit Tree Cottage love their passionfruit! Whether on a pavlova, in a fruit salad or fruit punch, scooped over ice cream or mixed into yoghurt - or just eaten straight from the fruit with a spoon… passionfruit are delicious! We stock 4 passionfruit varieties! Our varieties include the Panama Red which is a fantastic robust and hardy vine with large, delicious fruit. We also stock 3 grafted varieties: Flamenco, Sweetheart and Misty Gem which all produce wonderfully sweet and juicy fruit with stunning flowers. Which passionfruit vine will you choose? Or will it be one of each?!
---