What Fruit Trees Grow Well in South East Queensland?
Published on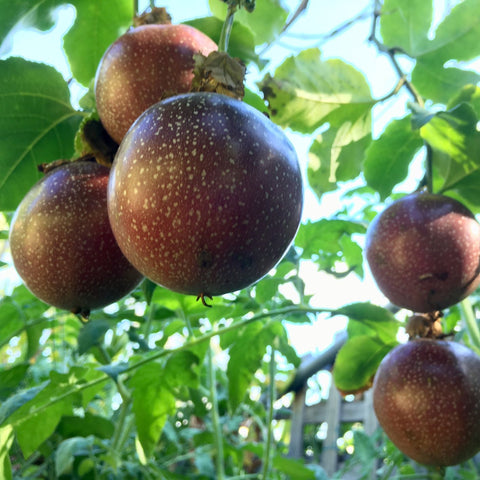 South East Queensland is very lucky to have a superb sub-tropical climate enabling us to grow a wide range of fruit trees. 
Brisbane, Gold Coast, and Sunshine Coast
Fruit Tree Cottage stock a range of fruit trees suitable for to grow in South East Queensland including the main cities like the Sunshine Coast, Brisbane, and the Gold Coast and surrounding areas.
We also provide trees suitable for customers to grow in the coastal, hinterland and inland areas of SE QLD and our customers visit us from Hervey Bay, Noosa and Caloundra, Montville and Maleny, as well as inland towns like Ipswich, Kingaroy, Childers, Blackbutt, Pomona, Woodford and Caboolture.
There are great conditions in these areas for growing fruit trees - read on to find out more.
Why Grow Fruit Trees
Fruit trees are an excellent addition to any home and provide us with the opportunity to harvest our own produce. Depending on the time of year there is always something in season to pick and enjoy! Choosing fresh fruit also adds to a healthy lifestyle.
Here are some other ideas to consider about fruit trees:
Fruit trees are worthwhile considering if you are hoping to add more plants and trees to your garden, change it's style and appearance, or when embarking on a more significant landscaping project.
They come in a range of heights, shapes, textures and foliage and can be used as focal points or features - with the bonus of fresh fruit! 
Deciduous fruit trees often provide stunning displays of colour during the Autumn months as their leaves change with the seasons.
Fruit trees can provide height and shade and others can provide dense growth or make a green screen or arbour for privacy and beauty.
Growing fruit trees is an excellent project for families, offering a hands-on opportunity to teach your kids about the benefits of gardening, soil, pollination, how to tell when fruit is ripe and to connect them to the natural world. Also, the trees will grow with your children providing an excellent activity and shared memory for all involved.
There is something special about growing and producing your own food. It's a rewarding exercise and project, and the fruit you have will taste that much sweeter!
Fruit Tree Options to Consider
Below we have compiled a list of some of our favourite fruit trees you can grow right here on the Sunshine Coast, Australia. This list is a good starting point as inspiration for your garden - it's a great time to grow your own!
Excellent Options for Large Spaces
If you have the space for full-sized fruit trees, these will do wonderfully.
Avocados
Citrus
Mulberries
Lychees
Passionfruit
Persimmons
Olives
Excellent Options for Smaller Spaces
There are plenty of fantastic pot-friendly dwarf fruit tree varieties to consider if you only have a small space available:
Dwarf Avocado Varieties: Wurtz
Dwarf Citrus Varieties: Lemons, Limes, and Oranges
Dwarf Mulberries: Red Shahtoot, Dwarf Black Mulberry
Other pot-friendly fruit trees you could consider growing include: olives, pomegranates, ginger, turmeric, kumquats and chillis. 
Tips for Planting, Growing and producing good crops from Fruit Trees on the Sunshine Coast
All fruit trees require a certain level of patience, care and maintenance to ensure they are healthy and producing good crops.
Our number one top tip to looking after your fruit tree is to check it regularly and try to observe if there have been any changes.
Fruit trees tend to be most susceptible to pests when going through a period of growth as the tender new leaves are soft and ideal for a pest to eat or damage. They may also suffer during adverse weather conditions i.e. prolonged heavy rainfall. 
Most fruit trees benefit from a warm, sunny, protected spot with well-drained soil, regular watering and occasional applications of fertiliser. Some varieties have nuances to what care and fertiliser is required so always check for care information on the back of your fruit tree labels and carefully read all instructions on fertiliser and pest control products. 
Check regularly to ensure that your fruit tree has been watered sufficiently. When a plant has too little water it causes the fine roots to begin to dry and dessicate and this will slow down the growth and health of your plant dramatically. 
For any specific questions you are most welcome to speak to us when collecting your order as we are always happy to help.
What's Next
Browse our range of fruit trees to check their specific information about planting and growing tips, sizes, time to fruiting, and more.
You can place an order online to click-and-collect from our nursery in Bli Bli on the Sunshine Coast. We will hold purchases for up to 28 days. Alternatively, you could select our local Sunshine Coast home delivery option.
We're also more than happy to hear from you and have a chat about your favourite fruits and what will work best in your specific area of South East Queensland. 
---