Christmas Gift Ideas - Fruit Trees
Published on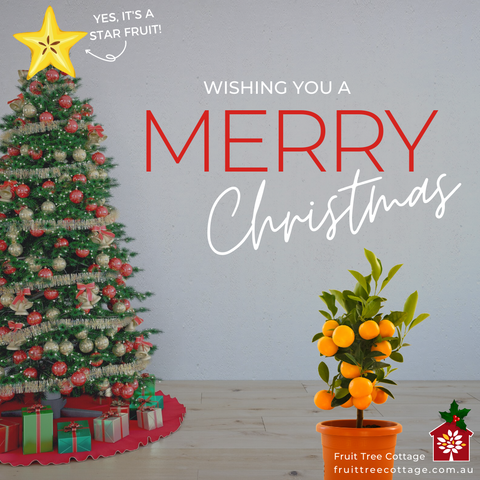 Looking for a Christmas Gift idea? How about a beautiful Dwarf Citrus Tree? There are few things more lovely than stepping outside into your garden and picking homegrown fruit. Dwarf citrus is perfect to grow in a pot; perfect for both small spaces or large; and ideal for someone looking to make their garden productive. Fruit Tree Cottage stock Dwarf Limes, Lemons, Oranges, mandarins… plus more.
For the chef in family you could consider a Kaffir Lime tree or Dwarf Kaffir Lime tree as a very special gift! Its lovely aromatic leaves are used in a wide range of South East Asian dishes, soups and curries. It's not just the leaves that can be used though as the zest is often used in baking sweet treats.
Take a look at our 'Bundle and Save' special offers!
Bundle | Jackfruit & Starfruit
Assorted Bundle | Mulberry, Passionfruit & Lychee
Assorted Bundle | Dragonfruit, Passionfruit & Lychee
Avocado Bundle | Edranol and Hass OR 2 Dwarf Avocado Trees
Avocado Bundle | 5 Varieties (Fuerte, Shepard, Sharwill, Reed, Hass)
Assorted Dwarf Bundle | Persimmon, Mulberry & Wurtz Avocado
Lychee Bundle | 3 Lychee Varieties
---